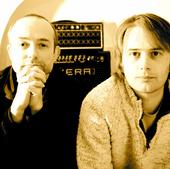 Darkroom is
Michael Bearpark - Guitar
Andrew Ostler (Os) - Laptop, Keyboards
and recently
and has in the past featured
Tim Bowness - Voice
Peter Chilvers - Bass
Os and Mike have been making music together since 1992.
Darkroom was formed in 1996 to provide a live soundtrack at the Nevers Film Festival, France. Their debut album 'Daylight' was released in 1998 on the 3rd Stone label; since then they have released six further albums and made numerous live appearances including at the Glastonbury festival, Omsk, Sprawl, the Digital-Analogue Cambridge festival and the Internationales Loopfestival Zürich 2005.
Darkroom represent a crossing point between avant-free jazz improvisation and Fripp/Eno-style ambient looping. Often by turns beautiful and beautifully ugly, this is a very human music despite the inevitable technology that produces it.
Recently Darkroom have eschewed traditional releases in favour of releasing music in an ad hoc fashion via their podcast, which now contains a good deal of music - both recordings of live appearances or rehearsals and studio tracks.
Os and Mike are currently mainstays of Improvizone, a regular London-based night of improvised instrumental music.
Darkroom have (or have had) membership overlap with these other projects: