08/01/08 12:51 Filed in:
photos
08/01/08 12:46 Filed in:
photos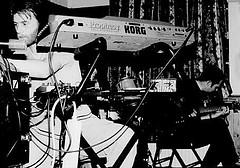 I just came across this old photo, taken at the Portland Arms, Cambridge UK, on the 29th of April 2000. Don't we look young? I'm not sure I have any of that gear any more, either.
Full res photo on Flickr
here
.
os, Jan 2008