21/03/08 17:59
This is a slightly belated report of a Darkroom recording session that happened on 17th Feb. We were continuing work on the "long awaited" (tm) new album.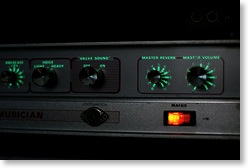 I had prepared an unusually large amount of keyboard parts for Mike to play over, so I just sat back and let Mike play this time. We mic'd up a cab driven by a lovely old amp that Mike keeps in his basement. Not least among its features are the rather nice backlit controls - leading us to ignore the music for a bit and have fun taking photos of it in the dark.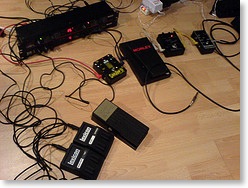 This was the session I finally persuaded Mike to break out the legendary combination of Lexicon JamMan and Vortex, which pair formed the basis of the Darkroom sound for some time - until I started doing all the looping in the laptop. It was well worth the effort, as you'll hear when this material ever sees light of day.
More photos
here
.
os, March 2008