18/04/08 10:21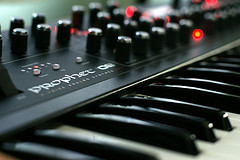 A new arrival in the Darkroom studio - a rather lovely
Prophet '08
by
Dave Smith Instruments
.
Dave Smith was involved in the creation of such legends of synth history as the Prophet 5 when he was working at Sequential Circuits Inc. He now has his own company and is turning out some very nice new machines.
Expect to hear a lot of this keyboard (as well as my trusty
Juno 6
) on the new album.
Today's podcast episode is a track consisting entirely of Prophet '08, recorded mainly as an exercise in getting to know the new beast. Enjoy!
os, April 08